Water Activities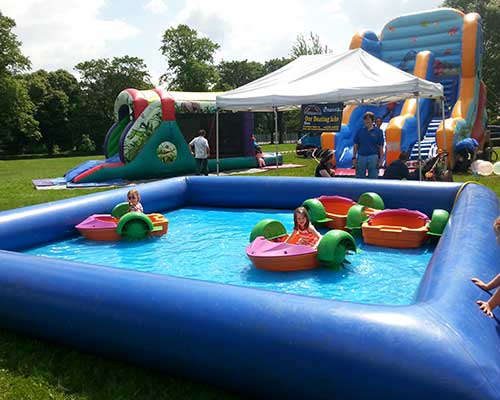 Paddle Boat Hire
Description
Our lakes are available for hire anywhere in the East Midlands provided there is water available.
We can pump it out of rivers, or we have a Licensed hydrant from Severn Trent.
These Boats are a real crowd pleaser at your event, carnival, Pub or school.
Bring the seaside to your event with our paddle boats available from 2 / 3 years up to 8 years old. Hand paddle control.
Boats are very stable low boats so water is only 12 - 18 inch's deep and comes with crowd barriers and staff for safety.
Our lakes do need electric to blow them up at the start (we can provide a generator for this.)
Lake sizes are 6m x 6m up to 6 boats also Our new lake 10m x 8m up to 10 boats plus 2m around for safety
Boats Hire from £250 to £500 per 4 -8 hours, within 40 miles of our base, extra mileage chargeable. setup filling time is two hours with a hydrant, standard garden hoses take several hours so best to setup the day before if this is the case.
Essential requirement, Flat level surface with no sharp objects, tree roots, etc.
Draining. Please ensure drains are clear before we arrive as there will be a lot of water to empty.
Please consider the position when planning your event and always be aware of the potential for sudden deflation due to lake failure or vandelism which can cause the water to drain without warning. Site survey always available before booking if required.